Description
SHADLE CARRIER PLATE
Made from an water-resistant 500D nylon, the Plate Carrier Vest is uniquely designed to give the wearer an increased range of motion with a lightweight feel and optimal breathability. Unlike some comparable weighted vests or flak jackets in the industry, the weight Vest can hold medium and large plates—front and back. Yoke shoulder pads reduce friction, adjustable tensional bands improve stability, and innovative air flow channels and aerospace mesh ensure sustained comfort. The Vest always fits tight even when performing Muscle-Ups, Rope Climbs, Plyo Box Jump etc..
Plate Carrier Vest weighs 1,7 kg on its own, and can be ordered as part of a package with a set of  plates—including your choice of vest Plates. All weight vests come with durable hardware, a laser-cut platform.
Specifications weight plates:
Blue color – 3650 g/pair 7,3 kg / w/vest 9kg/20LBS – W: 226mm, L: 283mm, Thick: 8 mm
Red color – 2350 g/pair 4,7 kg / w/vest 6,4kg/14LBS – W: 231mm, L: 283mm, Thick: 5 mm
Green color – 1400 g/pair 2,8 kg / w/vest 4,5kg/10LBS – W: 233mm, L: 283mm, Thick: 3 mm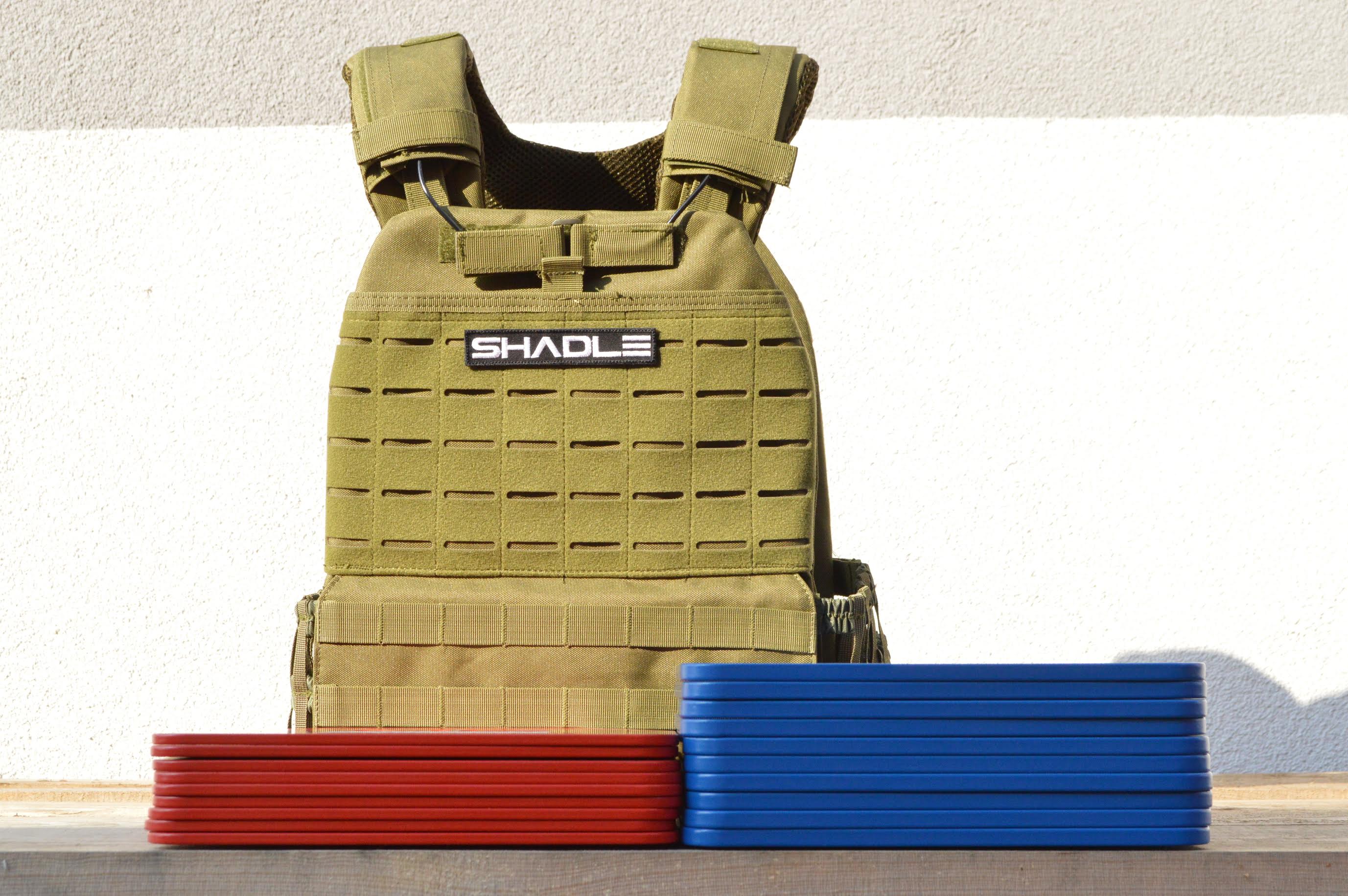 1. Weight loading  2. Construction                                                                             3. Carrier plate for everyone
By default, the actual use in the hero workouts like a                   Our SHADLE Carrier plate has created a uniquely lightweight       The vest was designed to be suitable for each gender or
Murph and so on two scales that we offer and it 14 LBS and       and body-contoured plate carrier, weighing just 1,7kg                    anatomicthe shape of the athlete's bulk or small. With his
20 LBS plates. But if it's still small weight, you can added            unloaded, and capable of holding both red and blue plates            adapting character can carry a status one size fits.
extra plates, and either 2 x 2,35 kg (Red plates) or 2 x 3,65kg     front and back. The carrier is made from durable 500D                  The carrier plate offers high durability and overall comfort.
(Blue plates) in addition to each of the vests. So each                  nylon, and features yoke shoulder pads to reduce friction
vest can be added for a max total of 4 pieces.                              adjustable tensional bands for stability, and innovative air
  flow channels for sustained comfort.
IMPORTANT:
Metal plates are meant to be used strictly for fitness purposes and should never be used as body armor.